Devil May Cry 4 (2008)



Storyline
A young knight named Nero comes to grips with his newly found power as his beliefs and allegiance are tested when he witnesses Sparda's legendary son Dante slaughter his fellow warriors.




"Capcom" is one of the most preeminent companies in the industry; it's also one of the most innovative, especially considering the last few years. However, that doesn't mean they don't milk their cows… quite the opposite, they have one of the more sequel driven publishing strategies. 



From a financial point of view, their tactic is sound: use "R&D-like" small production units to create new concepts, and then explore the established franchises until they stop selling. Yet, from an artistic point of view, 
it's an odd sight to see the same company name behind the brilliant "Devil May Cry", "Killer7" and "Ôkami", and the not so interesting "Megamans", "Street Fighters", "Resident Evils" and "Onimushas".
But, the past is past, a new generation of platforms has arrived, and it remains to be seen if the financially risky creative departments will have a chance to produce new titles, considering the high production values behind 360 and ps3 games. So, after the original and interesting "Dead Rising", 
it is with little surprise that "Capcom" now launches a sequel: "Devil May Cry 4". "Devil May Cry" has been a series filled with its fair share of ups and downs. The first "Devil May Cry" was a pure masterpiece; the second was a step backwards and the third a step sideways. So, 
it's fair to say that the expectations weren't very high. The question with this fourth installment is simple: does "Capcom" pull a "Resident Evil 4" out of the hat, or simply one more "Code Veronica"? The answer is… neither. Sadly, "Devil May Cry 4" doesn't reinvent the series, but fortunately it has enough punch to forget the series' uninspired past.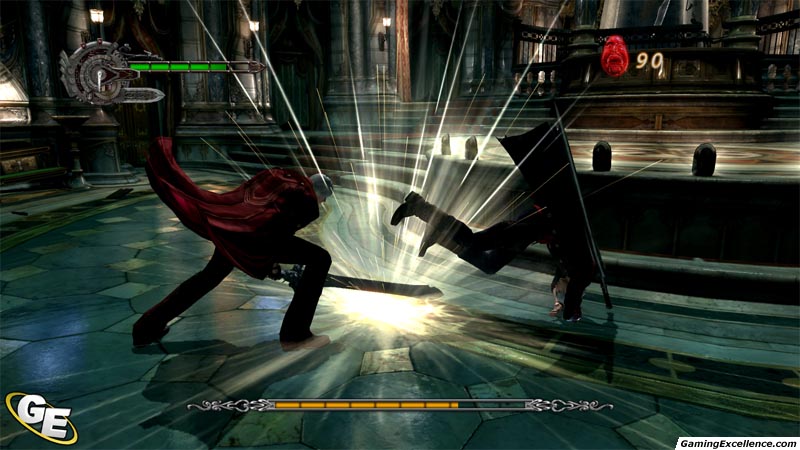 Looking at the game, it is nice to see that many of the original game's concepts were recaptured and finally improved on this sequel. Firstly, the neo-Gothic art style has returned in full force and went back to basics. Instead of opting for the grand-scale scenarios of "DMC2" and "DMC3", 
that mixed modern urban settings with the neo-Gothic architecture and some horror inspired scenarios (with mixed results), "DMC4" goes for a more classic approach, forgetting the modern settings and replacing them with nineteenth century architecture that blends much better with the neo-Gothic style. In the character department, 



there is also a return to the series roots, with more serious (but not exaggeratedly serious) designs replacing the often ridiculous monster design of the series. And thanks to more powerful hardware, everything looks even better, with crispy HD quality and great lighting effects that make everything shine;




it's easily one of the most visually impressive games around, thanks in great part to its art design and technical execution.


....................................................................................................................................................................................................................................................................................................................................................................................................................................................................................................................................................................................................................................................................................................................................................................................................................................................................................................................................................................................................................................................................................................................................................................................................................................................................................................................................................................................................................................



_________________
<a href https://www.ipagalworld.co.in/>IPAGALWORLD[/url]
<a href https://filmywab.co.in/>FILMYWAB 2018[/url]
<a href https://www.filmywab.online/>FILMYWAB[/url]